Farlig nivå
:

10
Typ:
Rogue Anti-Spyware
Gemensamma infektionssymtom:
Installerar sig på egen hand utan tillåtelse
Ändrar bakgrunds inställningar
Kopplar upp mot Internet utan din tillåtelse
Visa kommersiell annonser
Långsam Internet uppkoppling
System crashes
Störande popup meddelanden
Trög Dator
Andra mutationer kända som:
Infektion Video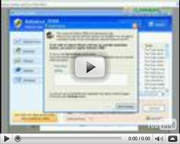 Antivirus 2010
Genom omfattande research och tester av Antivirus 2010, har det visat sig att detta spionprogram utgör ett opålitligt och farligt hot mot vilken dator som helst. Antivirus 2010 är, som namnet antyder, en farlig infektion och ger i slutändan bara negativa följder. Detta rootkit har bara ett syfte, och det är att kapa sitt offer, och pressa användaren på pengar. Inte nog med detta, så går detta rootkit in och kapar användarens skrivbord, och hindrar denne från att köra andra program. Man försöker även utsätta användaren för andra cyberbrottslingar med lika oärliga uppsåt. Det är helt uppenbart, med tanke på dem bevis vi har fått, att de användare som fått sin dator infekterad av Antivirus 2010, vill krossa detta spionprogram för gott.
Det är självklart, att de namnlösa skapare som står bakom Antivirus 2010 har lömska avsikter när det gäller att sprida infektionen vidare. Den viktigaste anledningen är, att Antivirus 2010 är ett skurkaktigt program och att den infekterar datorn utan användarens medgivande. Detta är otvetydligt ett klassiskt tillvägagångssätt som du naturligtvis inte ska lita på eller se som ett pålitlig program. En pålitlig och laglig programvara frågar alltid användaren om tillstånd först att få tillgång till dennes dator.
Antivirus 2010 ger dessvärre dess utvecklare full tillgång till en användares dator, och tillgång till känslig information som känsliga personuppgifter, övervakning av användarens online-aktiviteter, tillgång till känsliga betalkorts-uppgifter eller lösenord. Ett annat angrepp, är att Antivirus 2010 agerar som ett verkligt säkerhetsprogram, och låtsas scanna datorn efter icke existerande virus och infektioner. Detta genomförs för att skapa panik hos användaren, i ett försök att skapa ett positivt intryck av Antivirus 2010. Programmet talar sedan om för användaren, att det enda sättet att bli av med med dessa påstådda infektioner är att betala för en uppgraderad licens av Antivirus 2010. Ett av de mest uppmärksammade fallen av Antivirus 2010 för att lura sina användare, är enligt följande:
"Attention! Network attack detected!
Your computer is being attacked from remote host. Attack has been classified as Remote code execution attempt."
"Attention! Threat detected!
NOTEPAD.EXE is infected with Trojan-BNK.Keylogger.gen
Private data can be stolen by third parties including card details and passwords.
It is strongly recommended to perform threat removal on your system."
"Windows Security Alert
Your computer is making unauthorized copies of your system and Internet files.
You should immediately run full scanning of your system to prevent any unauthorized access to your data.
Click YES to run Antivirus scanner right now."
Användaren kommer också att få svårt att köra legitima och körbara program, då Antivirus 2010 kommer att blockera dessa, i ett försök att förhindra användaren från att använda andra säkerhetsprogram som kan ta bort Antivirus 2010.
När du försöker starta ett körbart program och följande meddelande visas:..:
"Windows cannot access the specified device, path, or file. You may not have the appropriate permissions to access the item."
...är det möjligt för dig att nå det önskade programmet med hjälp av cacls.exe-applikationen, som medföljer alla Windows operativsystem som standard. Allt du behöver göra är, att gå till kommandotolkens mapp på din dator, och skriv in följande, detta kommer att ge dig tillgång till mappen "alla" för att använda filen:
"cacls /G Everyone:F"
Det har också konstaterats, att Antivirus 2010 ersätter den viktiga komponenten userinit.exe, och denna komponent kan inte användaren ta bort, eftersom denna komponent är viktigt för att Windows skall fungera korrekt. Standarplatsen är enligt följande:
"c:\WINDOWS\system32\userinit.exe (Do not delete the C:\Windows\System32\userinit.exe file)"
Oerfarna användare rekommenderas ej att försöka ta bort Antivirus 2010 från systemet på egen hand, då detta kan medföra ytterligare skada. Använd istället ett godkänt och lagligt säkerhetsprogram som kan utrota Antivirus 2010 från datorn på ett säkert och riskfritt sätt. Oavsett vilket tillvägagångssätt användaren väljer att använda sig av, är det viktigt omgående och utan dröjsmål bli av med Antivirus 2010.

Hur tar man bort Antivirus 2010
Filer som hör ihop med infektion (Antivirus 2010):
QW2010.exe
AV2010Installer[1].exe
AV2010.exe
wingamma.exe
IEDefender.dll
svchost.exe
QW2010i.exe
AV2010[2].exe
104656.exe
QW2010.exe
AntiVirus Studio 2010.exe
djpyqvvi.dll
load.exe
msnsjidv.dll
ouictmop.dll
securitycenter.exe
Antivirus-Golden.exe
taskmgr.dll
Antivirusgold 4.1.exe
Antivirusgolden 3.8.exe
Antivirusgolden 4.0.exe
AV2010Installer[1].exe
AV2010.lnk
%ProgramFiles%\AV2010
%AllUsersProfile%\Start Menu\Programs\AV2010
QW2010i.exe
AV2010[2].exe
IEDefender.dll
AV2010.exe
%AllUsersProfile%\Application Data\AV2010
svchost.exe
AV2010Installer[1].exe,wingamma.exe
AV2010Installer[1].exe, wingamma.exe
Dynamisk Länk Bibliotek att ta bort (Antivirus 2010):
IEDefender.dll
IEDefender.dll
djpyqvvi.dll
msnsjidv.dll
ouictmop.dll
Processer att undgå (Antivirus 2010):
AV2010[2].exe
AV2010.exe
AV2010Installer[1].exe, wingamma.exe
AV2010Installer[1].exe
QW2010i.exe
AV2010Installer[1].exe,wingamma.exe
QW2010.exe
svchost.exe
Antivirusgolden 4.0.exe
Antivirusgolden 3.8.exe
AV2010.exe
AV2010Installer[1].exe
wingamma.exe
svchost.exe
AV2010[2].exe
QW2010i.exe
QW2010.exe
104656.exe
AntiVirus Studio 2010.exe
load.exe
securitycenter.exe
SearchSettingsProtection.exe
Antivirus-Golden.exe
Antivirusgold 4.1.exe
Ta bort register inlägg (Antivirus 2010):
AV2010
{705FD64B-2B7B-4856-9337-44CA1DA86849}
{7BC7565C-5062-43CE-8797-DC2C271140A9}
IEDefender.IEDefenderBHO.1
IEDefender.IEDefenderBHO
{FC8A493F-D236-4653-9A03-2BF4FD94F643}
{9CB00F85-D96F-1C82-F5A4-A31D57D6528D}
{9F9B502D-9C70-E6CC-2892-FA153A3CFF5E}
AntivirusGolden 4.1
AntivirusGolden 4.0
AntivirusGolden 3.8
RUNNING PROGRAM\QW2010.exe
RUNNING PROGRAM\AV2010.exe
Microsoft\Windows\CurrentVersion\Explorer\MenuOrder\Start Menu2\Programs\AV2010
AppID\IEDefender.DLL
Microsoft\Windows\CurrentVersion\Explorer\Browser Helper Objects\{FC8A493F-D236-4653-9A03-2BF4FD94F643}
AppID\{3C40236D-990B-443C-90E8-B1C07BCD4A68}