Farlig nivå
:

9
Typ:
Rogue Anti-Spyware
Gemensamma infektionssymtom:
Kopplar upp mot Internet utan din tillåtelse
Visa kommersiell annonser
Långsam Internet uppkoppling
Störande popup meddelanden
Trög Dator
Andra mutationer kända som:
Infektion Video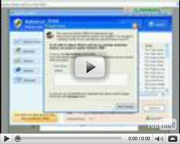 Extra Antivirus
Extra Antivirus are the new renegade anti-spyware programs and are a replica of ExtraAntivir, Extra Antivir 2.8. I am saying "are" because in one day there were 2 versions released. Both look totally different, but at the same time, both behave exactly the same (as all Rogue programs do).
Extra Antivirus infects a system via Trojan applications, spam emails or it may come bundled with other suspicious programs. Extra Antivirus portrays itself as an effective spyware remover tool. In fact all it does is lead the user into believing their system is infected with a number of spyware threats, in order to get the user to purchase the full "licensed" program. Once Extra Antivirus has infected a system and starts running, the user will receive system security messages, alluding to the detection of imaginary spyware threats found in the system. It also redirects the user to Extra Antivirus's website or another rogue website to ensure the ultimate purchase of the rogue Extra Antivirus's full version.
Extra Antivirus's trial version is capable of running fake computer system scans and displaying a list of security risks. You know how the full version differs from the trial? It doesn't run any scan, and it doesn't show any pop-ups. In short, it does nothing. It is highly recommended, by any IT specialist, that boths versions of Extra Antivirus should NOT be trusted. Remove the infection now!

Hur tar man bort Extra Antivirus
Filer som hör ihop med infektion (Extra Antivirus):
SetupReleaseXP[1].exe
ActivatedSetupReleaseXP[2].exe
SetupReleaseXP[2].exe
ExtraAV.exe
securitycenter.exe
Extra_Antivir.exe, install_511_MHwzNnwxMDAwMDAwMDAwfHx8fHx8fHw_.exe
Extra Antivir.exe
setup_26357_0[1].exe
eav.exe
Processer att undgå (Extra Antivirus):
SetupReleaseXP[1].exe
ActivatedSetupReleaseXP[2].exe
SetupReleaseXP[2].exe
ExtraAV.exe
securitycenter.exe
Extra_Antivir.exe, install_511_MHwzNnwxMDAwMDAwMDAwfHx8fHx8fHw_.exe
Extra Antivir.exe
setup_26357_0[1].exe
eav.exe
Ta bort register inlägg (Extra Antivirus):
Microsoft\Windows\CurrentVersion\Run\Extra Antivirus
Microsoft\Windows\CurrentVersion\uninstall\Extra Antivirus 3.0
Tally software LTD\Extra Antivirus