Farlig nivå
:

9
Typ:
Rogue Anti-Spyware
Gemensamma infektionssymtom:
Installerar sig på egen hand utan tillåtelse
Visa kommersiell annonser
Långsam Internet uppkoppling
Störande popup meddelanden
Trög Dator
Andra mutationer kända som:
Infektion Video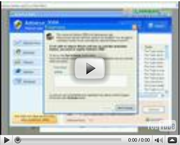 Antivirus Pro 2010
Antivirus Pro 2010 does not guard your privacy in any way, shape or form. It does the complete opposite and totally invades your privacy. Antivirus Pro 2010, which is a remake of an old WinReanimator, makes use of unfair methodologies in order to obtain your hard earned money. It has a distinct process that it uses in order to achieve its goal. You will receive fake pop ups which come from Trojans as well as fake security notifications. Antivirus Pro 2010 is able to steal your personal information without your knowledge and use it.
Antivirus Pro 2010 will also try to get you to buy a full version of the product which it claims is for your own good and will clean your system of any infections. This is all one big scam and you shouldn't fall for it. If you are going to spend any money you should buy a decent antispyware removal product that is authentic that both detects and deletes threats automatically. A decent and up to date antispyware removal product will be able to detect that you have Antivirus Pro 2010 on your system and will be able to remove it automatically for you.

Hur tar man bort Antivirus Pro 2010
Filer som hör ihop med infektion (Antivirus Pro 2010):
wscui.cpl, _scui.cpl
Install[1].exe
AVEngn.dll
AntivirusPro_2010.exe
filekiller.dll
avprot.exe
Antivirus_Protection_Setup[1].exe
antivirusprotection.exe
Dynamisk Länk Bibliotek att ta bort (Antivirus Pro 2010):
AVEngn.dll
filekiller.dll
Processer att undgå (Antivirus Pro 2010):
Install[1].exe
AntivirusPro_2010.exe
avprot.exe
Antivirus_Protection_Setup[1].exe
antivirusprotection.exe
Ta bort register inlägg (Antivirus Pro 2010):
AntivirusPro_2010
HKEY_LOCAL_MACHINESOFTWAREMICROSOFTWINDOWSCURRENTVERSIONRUN Antivirus Pro 2010
HKEY_LOCAL_MACHINE\SOFTWARE\MICROSOFT\WINDOWS\CURRENTVERSION\RUN\ Antivirus Pro 2010
Microsoft\Windows\CurrentVersion\Run\Antivirus Pro 2010
Microsoft\Windows\CurrentVersion\Uninstall\AntivirusPro_2010
RUNNING PROGRAM\AntivirusPro_2010.exe